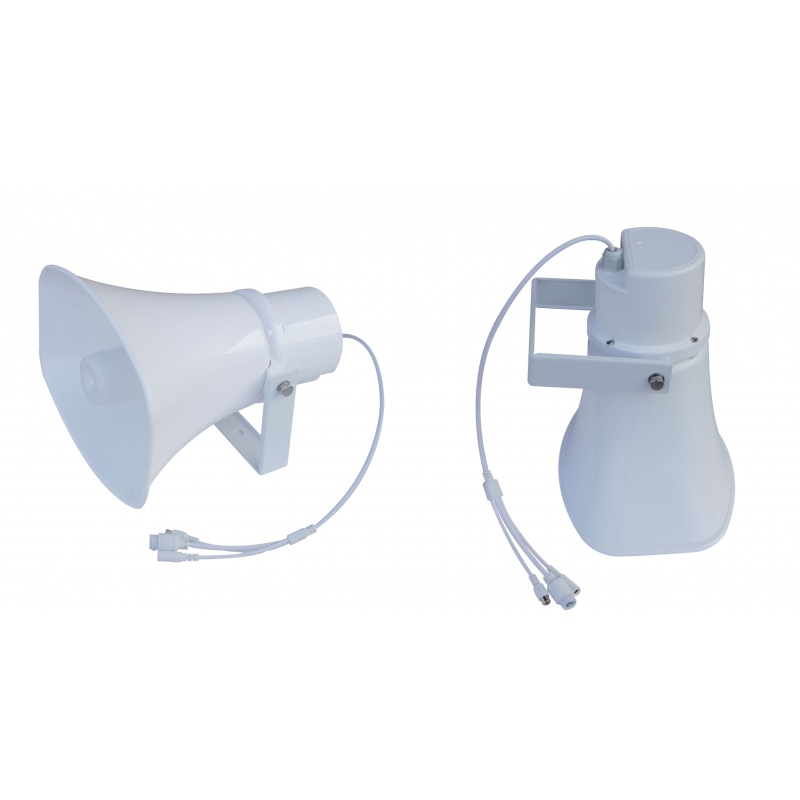 IP POE Waterproof Horn Speaker RH604P

Descriptions & Features
The RH604P is a IP based Active Horn Speaker is powered by PoE+network switch through CAT5 or CAT6
connection - no external power supply is required.
Built-in Class D amplifier provides effective use of power,the system outputs rated power Power: 25W
(when POE power supply), 30W (DC24V/2A).
IP65 rated for indoor and outdoor.
This speaker system has excellent dispersion,wide bandwidth and a smooth frequency response which
makes this the top choice for voice paging,playing music,emergency notification alerting and bell
scheduling applications.

Features:
※ Support protocol: RTP, UDP, TCP/IP, FTP;
※Speaker unit form: mid-to-treble driver *1
※ Support POE general international standard IEEE 802.3at (25.5W) protocol;
※Integrated Class D amplifier .
※ PoE+powered without a need for local power.
※RJ45 connection for audio from PoE+Ethernet
Specification:
Amplifier Type : Class D
Power Supply: PoE or DC24V(2A)
Rated Power: Power Over Ethernet: 25W
DC24V(2A): 30W
LAN Connector : RJ45
Transmission Speed : 10/100Mbps
Communication Protocol : TCP/IP, UDP, IGMP
Sampling Rate : 8K~48KHz
Audio Bit Rate: 8K~512Kbps
Sensitivity(1m,1w) : 108dB±3dB
Frequency Response: 400Hz~6KHz(±3dB)
Dimensions (mm): 285*205*280mm
Material : ABS enclosure,steel bracket
Net Weight (kg) : 2.3kg